Stetzer filters filter out dirty electricity between 2kHz and 150kHz in indoor mains cabling . Within these limits, there is a range of frequencies (from 4kHz to 100kHz) which are absorbed by humans and animals and have electro-biological effects. A body of scientific research indicates that reducing the electro-pollution in this range of frequencies may reduce a wide range of disease symptoms when it is filtered out from peoples' everyday exposure.1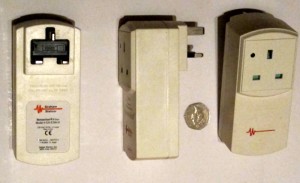 Dirty electricity has 3 sources:
The supply: from the transmission lines, the local substation, and neighbouring properties and equipment sharing the same electrical supply.
Radiated into the wiring with them acting as aerials
Our own electronic equipment drawing power with high frequency components (dimmers, power supplies, fluorescent lamps, and other electronics)
A combination of placing filters optimally and changing the major sources of pollution will create the desired sympathetic environment.
During the development of the filters and the following medical research it was shown that having too few filters is a false economy. Too few of them means higher than recommended levels of dirty electricity. In the reported research, for instance in schools, dozens were and are being used for the successful trials.  A typical dwelling will need around 10 or more depending on the amount and type of electronic equipment and the level of sensitivity and desired level of pollution eradication. Three is the minimum quantity of filters recommended for use in a single room with sleeping places ie bedroom as the priority.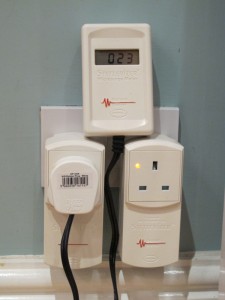 For the Sleeper pack of 3
The sleeper is a trial pack which is intended to give relief from exposure to dirty electricity during the critical self-healing period of sleep. It is essential that all other electrical equipment apart from the fridge and freezer are turned off, and even better unplugged in the whole property. No equipment nor live wires should be within 2m of the bed (where possible). The filters should plugged in and switched on so that the lights on the filters glow. Digital cordless phones should be replaced with corded phones and if really necessary Siemens Eco Plus units. A corded phone (the old-style cheap ones with a wired connection) should be used when you switch the cordless phones off so that you still have emergency phone capability.
Two hours before bedtime low light levels and electromagnetic exposure should be as low as possible so no ironing, hair driers, computer use. The bedroom should have the lowest light levels practicable. If there are only 2 sockets, a filter can be doubled up by plugging one into another. If there is not room to put in the filters at the wall socket, use a short extension lead with a strip socket and plug the filter in that.
The filters are compatible with earthing bedsheets, with a resistor in the plug. Available from Stetzer.
For the larger 10 and 15 packs (optional GS Meter)
Without a meter: spread the filters round installing as near to obvious sources of electropollution as is possible. Substitute all compact fluorescent lights with traditional incandescent bulbs or halogen, replace wifi with LAN cables (or at least turn it off when not in use, especially at night.) Ensure your laptop wifi is also off. Replace the digital cordless phones with corded phones or Siemens Eco Plus – or at least turn them off at night.
With a meter, rearrange the filters until key areas of frequent use have GSu values below 50 for non- electrosensitives and below 30 for electrosensitives.
Special measures for Diabetics and Allergic Individuals
Adjusting to significantly lower levels of electropollution might cause a reaction in highly sensitive individuals. Change the filters when the sensitive individuals are out of the building so that they are introduced gently to the new levels as they return to the building. If they begin to feel allergic, then reduce the filters so that the electropollution (number of GSu's if you have a meter)  are reduced at a rate that the allergic's feel comfortable with, perhaps over 3 days. Research2 has shown that diabetics can need lower doses of insulin when electropollution is reduced, so be prepared to monitor glucose levels especially carefully.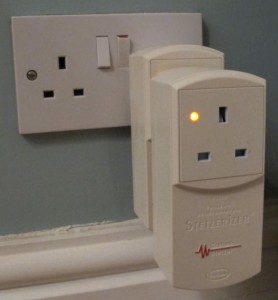 Useage
Sleeper Pack of 3 – for a trial to see the benefits – you are likely to want to move them round with you during the day because they make you feel good.
Small Property: 10 Pack with a smaller amount of electronics
Average property 15 Pack 3-4 bedrooms with an average family's electronics.
Larger properties, offices with equipment etc. will need more filters.
Electro-pollution Surveys and Design Service
90 minutes minimum to assess a wide range of sources of electropollution, in your home, office and other premises.
I perform a professional survey for you advising on ways to reduce you and yours' electropollution. I measure dirty electricity,  magnetic and electric fields, microwave radiation, disturbances in the earth's magnetic field, geopathic stress, check on radon risk. A written report can also be provided if required.
Advisory Service
Telephone or Skype advice on electropollution charged in 15 minute intervals.
I do hope you benefit from using them as much as I do!
Guy Hudson B.Sc (hons) Phys.
+44 (0) 7985 157532
1For scientists: The interaction between wiring and human body is carried as a near-field effect with capacitative induction as the mechanism. Research: Sam Milham, Radiation Research Trust, Donna Fisher
2 Magda Havas for research on diabetes, ADHD, etc.
FAQ
My socket is too near the floor to plug my Stetzer filter in. Solution – get a short extension lead and plug it into that. They still work fine as demonstrated by the GS Meter.